Advancing Nursing Excellence: Exploring Key Areas of Practice | A Journey Through the Vital Aspects of Nursing: From Anatomy to Patient Safety, Nursing Care Unveiled: An In-Depth Look at Essential Topics for Nurses
Introduction: Nursing is a dynamic and ever-evolving profession that requires proficiency in various specialized areas of practice. From emergency and critical care nursing to patient safety, documentation, legal considerations, evidence-based practice, nursing research, leadership, and cultural competence, nurses continually expand their expertise to deliver high-quality care. In this article, we will delve into these essential areas of nursing practice and their significance in ensuring optimal patient outcomes and professional growth.
1. Emergency Nursing:
Emergency nursing focuses on providing immediate and specialized care to patients experiencing critical health conditions or trauma. Emergency nurses are trained to assess and stabilize patients, initiate life-saving interventions, and coordinate with interdisciplinary teams to ensure prompt and efficient care in high-pressure environments.
2. Critical Care Nursing:
Critical care nursing involves caring for patients with life-threatening conditions or those requiring intensive monitoring and intervention. Critical care nurses are skilled in advanced assessment techniques, administering complex therapies, and managing critical care equipment. They work in settings such as intensive care units (ICUs), cardiac care units (CCUs), and neonatal intensive care units (NICUs).
3. Patient Safety:
Patient safety is a paramount concern in nursing practice. Nurses play a crucial role in identifying and mitigating potential risks, implementing safety protocols, and advocating for patient well-being. They are responsible for medication safety, infection prevention, fall prevention, and ensuring a safe healthcare environment.
4. Documentation:
Accurate and thorough documentation is essential in nursing practice. Nurses must maintain detailed records of patient assessments, interventions, and outcomes. Documentation serves as a communication tool among healthcare providers, supports continuity of care, and provides legal and ethical accountability.
5. Legal Issues in Nursing:
Nurses must navigate legal and ethical considerations to ensure the delivery of safe and ethical care. They must be aware of their scope of practice, legal obligations, and professional standards. Understanding legal issues, such as informed consent, confidentiality, and negligence, helps nurses uphold patient rights and protect themselves professionally.
6. Evidence-Based Practice:
Evidence-based practice (EBP) involves integrating the best available research evidence with clinical expertise and patient preferences. Nurses use current research findings and clinical guidelines to inform their decision-making, promote effective interventions, and improve patient outcomes. EBP enhances the quality of care and ensures that nursing interventions are based on the latest evidence.
7. Nursing Research:
Nursing research contributes to the advancement of nursing knowledge and evidence-based practice. Nurses engage in research to explore healthcare phenomena, develop innovative interventions, and evaluate the effectiveness of nursing interventions. By participating in or utilizing research, nurses promote continuous improvement in patient care and contribute to the nursing profession's body of knowledge.
8. Leadership and Management in Nursing:
Leadership and management skills are essential for nurses in various roles, including charge nurses, nurse managers, and nurse executives. Effective leadership promotes a positive work environment, facilitates teamwork, and enhances patient outcomes. Nurse leaders are responsible for strategic planning, resource allocation, staff development, and creating a culture of continuous improvement.
9. Cultural Competence in Nursing:
Cultural competence is crucial in nursing to provide patient-centered care to individuals from diverse backgrounds. Nurses must understand and respect the cultural beliefs, values, and practices of their patients. Cultural competence promotes effective communication, enhances trust, and reduces health disparities. It requires self-awareness, cultural sensitivity, and the ability to adapt care plans to meet patients' cultural needs.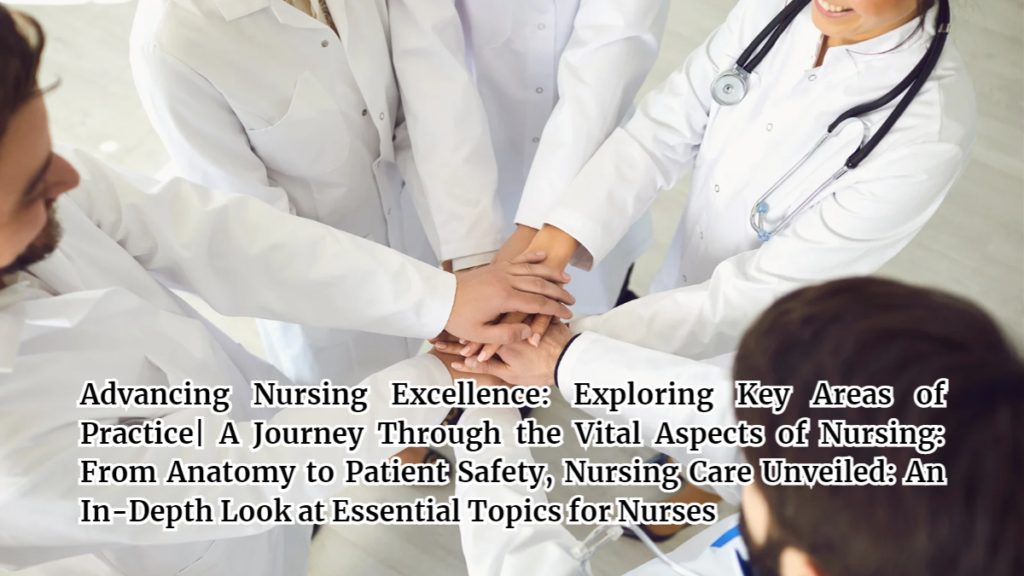 Conclusion:
As the nursing profession evolves, nurses must continually expand their expertise and adapt to the changing healthcare landscape. Areas such as emergency nursing, critical care nursing, patient safety, documentation, legal considerations, evidence-based practice, nursing research, leadership, and cultural competence all contribute to delivering high-quality care and improving patient outcomes. By embracing these key areas of practice, nurses can enhance their professional growth and make a positive impact on the lives of those they serve.
https://www.studyvidya.com/mcq/nursing
Unveiling The Wonders Of The Human Body: 100 Crucial Questions Answered (Part 2)
https://www.studyvidya.com/mcq/nursing/anatomy-and-physiology/1