A Holistic Approach to Nursing: Exploring 12 Essential Areas of Study | From Anatomy to Wound Care: Exploring the Core Topics of Nursing Practice
Introduction: Nursing is a dynamic and multifaceted profession that requires a solid foundation in various areas of study. From understanding the human body to delivering comprehensive care in diverse healthcare settings, nurses play a vital role in promoting health and well-being.
In this article, we will delve into essential subjects such as anatomy, physiology, pharmacology, pathophysiology, medical-surgical nursing, pediatric nursing, obstetric nursing, geriatric nursing, psychiatric nursing, community health nursing, nursing ethics, and health assessment.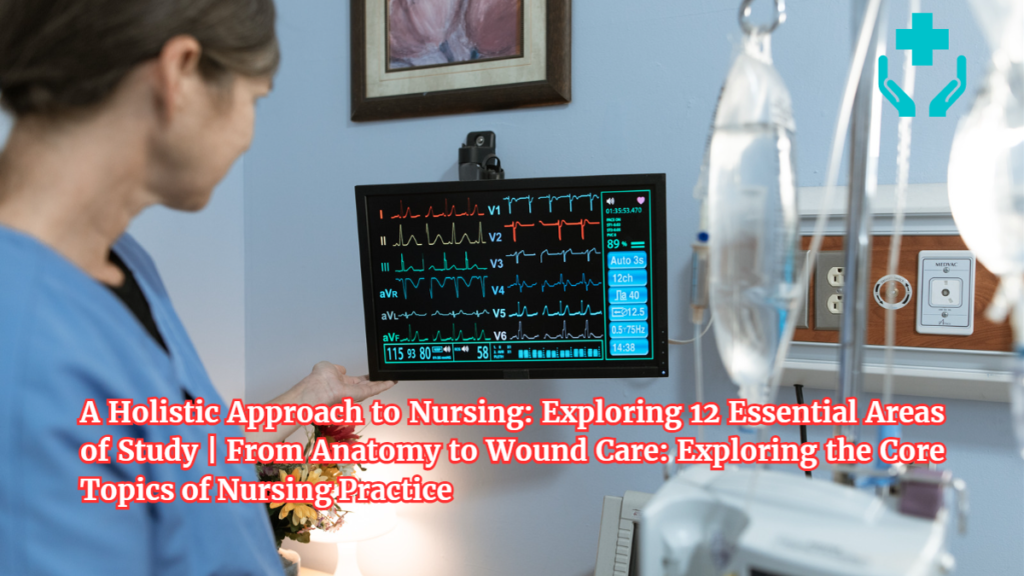 From Anatomy to Wound Care: Exploring the Core Topics of Nursing Practice
1. Anatomy:
Anatomy forms the cornerstone of nursing education, providing a comprehensive understanding of the structure and organization of the human body. Knowledge of anatomy enables nurses to identify anatomical landmarks, comprehend the interconnections between body systems, and apply this knowledge in clinical settings for accurate assessments and interventions.
2. Physiology:
Physiology explores the functions and mechanisms that drive the human body. By studying physiological processes, nurses gain insights into how organs and systems work individually and collaboratively to maintain homeostasis. Understanding physiology is crucial for comprehending normal bodily functions, recognizing deviations from the norm, and planning appropriate nursing interventions.
3. Pharmacology:
Pharmacology focuses on the study of drugs, their actions, interactions, and therapeutic uses. Nurses must possess a solid foundation in pharmacology to administer medications safely and effectively. By understanding drug classifications, dosage calculations, potential side effects, and contraindications, nurses play a crucial role in medication management, patient education, and monitoring for adverse drug reactions.
4. Pathophysiology:
Pathophysiology investigates the altered physiological processes that underlie disease states. Nurses must comprehend the pathophysiological mechanisms involved in various health conditions to provide appropriate care. By understanding the causes, manifestations, and progression of diseases, nurses can anticipate complications, implement targeted interventions, and educate patients and their families.
5. Medical-Surgical Nursing:
Medical-surgical nursing encompasses the care of patients across diverse medical specialties. Nurses in this field provide comprehensive care to individuals with acute or chronic medical conditions. They coordinate and deliver interventions such as wound care, pain management, post-operative care, and health promotion. Medical-surgical nursing requires proficiency in critical thinking, clinical skills, and effective communication.
6. Pediatric Nursing:
Pediatric nursing focuses on the care of infants, children, and adolescents. Nurses in this specialty provide age-specific care, support families, and collaborate with interdisciplinary teams to meet the unique needs of pediatric patients. Pediatric nurses play a crucial role in administering vaccinations, monitoring growth and development, managing pediatric illnesses, and providing education to parents.
7. Obstetric Nursing:
Obstetric nursing centers around the care of women during pregnancy, childbirth, and the postpartum period. Nurses in obstetric nursing support expectant mothers, monitor fetal well-being, assist during labor and delivery, and provide postpartum care. They also play a critical role in breastfeeding support, newborn care, and educating families about reproductive health.
8. Geriatric Nursing:
Geriatric nursing focuses on the unique needs and challenges faced by older adults. Nurses in this field provide comprehensive care to promote healthy aging, manage chronic conditions, and support the overall well-being of elderly individuals. Geriatric nurses address issues such as polypharmacy, falls prevention, cognitive impairment, and end-of-life care.
9. Psychiatric Nursing:
Psychiatric nursing involves the assessment, diagnosis, and management of individuals with mental health disorders. Psychiatric nurses provide therapeutic interventions, administer psychotropic medications, conduct psychoeducation, and support patients in their journey towards mental wellness. They play a crucial role in de-stigmatizing mental health and advocating for holistic care.
10. Community Health Nursing:
Community health nursing focuses on promoting health and preventing diseases within populations. Nurses in this field work in diverse settings such as clinics, schools, and public health agencies. They engage in health education, disease prevention, community assessment, and health promotion activities. Community health nurses collaborate with individuals, families, and communities to improve overall health outcomes.
11. Nursing Ethics:
Nursing ethics explores the ethical principles and frameworks that guide nursing practice. Nurses must navigate complex ethical dilemmas, maintain patient confidentiality, advocate for patient rights, and ensure equitable care. Understanding nursing ethics helps nurses make ethically sound decisions and provide compassionate and patient-centered care.
12. Health Assessment:
Health assessment is a foundational skill that enables nurses to collect comprehensive data about a patient's physical, psychological, and social well-being. Through effective health assessments, nurses identify health problems, formulate nursing diagnoses, and develop individualized care plans. Health assessment encompasses skills such as interviewing, physical examination, and documentation.
Conclusion:
Nursing education encompasses a broad range of subjects that equip nurses with the knowledge and skills necessary to provide holistic and patient-centered care. From understanding the human body through anatomy and physiology to specialized fields like medical-surgical, pediatric, obstetric, geriatric, psychiatric, and community health nursing, nurses play a critical role in promoting health, preventing illness, and supporting individuals across the lifespan. By continuously expanding their knowledge base and staying abreast of current research and best practices, nurses contribute significantly to the well-being of the individuals and communities they serve.
https://my.clevelandclinic.org/patients/information/questions-to-ask-your-doctor
50 Questions And Answers-Anatomy And Physiology: Exploring The Human Body's Structure And Functions